Last Summer/ San Diego Troubadour Magazine Review
JOHN BATDORF: Last Summer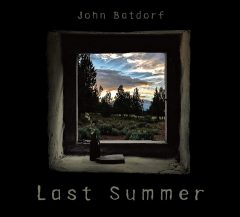 Soft rock specialist John Batdorf can only be described as prolific. Since 1970, he has released numerous albums as a solo (his website offers a deal on seven of them packaged together), and as part of musical partnerships with Mark Rodney, Michael McLean, and James Lee Stanley. He has done numerous studio appearances (when Adele sang "Skyfall" at the Oscars, he was in the backing crew onstage), and has composed music for TV and movies. 2018's Me and My Guitar was a sort of unplugged career retrospective, and he is back with Last Summer.
Batdorf's music is slickly crafted pop with tight upper register harmonies, recalling such artists as Dan Fogelberg, whom he opened for, and America, who have recorded his music. On the new 12-song project he plays all of the instruments; wrote or cowrote all of the songs; and produced, arranged, mixed, and engineered. The results include what sounds like a choir of backing vocals and big dynamic buildups with multiple guitars and keys, with subject matter on some of the tracks that finds him looking in a mirror.
"I Wanna Be With You" starts with chunky guitar chords, then gives way soon to a cheerful profession of commitment for his lover as he sings about how his love resembles writing songs. The title track follows, a softer ballad that recalls, in this age of quarantines, a better time in the past—that was only a year ago—"Will we return to a time we were all together?/ Will we remember last summer?"
"Where Do We Go From Here" is about a marriage having difficulty. Batdorf's almost uniformly upbeat lyrics look at this reality: "After the counseling and the therapy/ Lessons were learned at last." Another introspective tune, "Broken," name checks Fogelberg's "Leader of the Band," and the soaring choruses echo those of another soundalike—Seals and Crofts—it is a disc highlight. He quiets things down for a folk tune backed just by guitars and backing vocals, "Hope is Everywhere," with the message that as bad as things look in our 2020 society, the "wreckage" can be rebuilt, if we come together and work on it. Batdorf pokes a little fun at himself on "I Know What Girls Want," about his rocker career, singing to an infectious and catchy hook: "I'm on a mission of my own volition/ I'm really fishin' for my moment in the sun."
"You Don't Have to Know My Name" is an uptempo tune about the damage done by a breakup, another demonstration of Batdorf's handiness with catchy hooks. He sings about his past as a performer on "Good Music Never Goes Away," a three-and-a-half-minute musical biography that celebrates '70s music, and refers to Joni Mitchell, Jackson Browne, and Steely Dan with a beautiful harmony chorus that sounds like the ones from Dan's better tracks. "Island Girl" is a bonus track from 1993, good enough that one wonders why it hasn't found acetate till 2020.
Last Summer is another tasty collection from polished pro John Batdorf, a prize for lovers of harmonies.
https://sandiegotroubadour.com/2020/09/john-batdorf-last-summer/