Who Is John Batdorf?
John Batdorf is an American singer-songwriter, solo artist, and one half of Las Vegas Rock and Roll Hall Of Famers, folk-rock duo Batdorf & Rodney and lead singer and founder of the group Silver whose hit Wham Bam went to # 16 Nationally in 1976 and most recently appeared in the movie, Guardians Of The Galaxy ll. He's also a successful film and TV composer, session vocalist, and inspirational musician in the substance recovery community.
Please support John's current and future recordings
Latest Release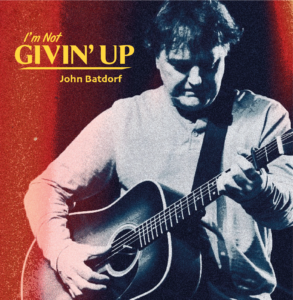 Next Show
Live In Your Living Room
Would you like to host John for a house concert in your own home?
https://player.vimeo.com/video/801424549
https://player.vimeo.com/video/672419958
https://player.vimeo.com/video/422601342
News Corner
New EP Review
-
REVIEWS JOHN BATDORF: I'm Not Givin' Up by Wayne RikerDecember 2023 I'm Not Givin' Up is the latest CD drop from veteran singer/songwriter John Batdorf. All five tracks are short…
Newsletter
Sign up for John's periodic email newsletter
Booking
FOR BOOKING, MANAGEMENT & ALL PRESS INQUIRIES
Vicki Leighty

Web Site: www.lydacomusic.com