The History Of Batdorf and Rodney (The Batdorf Version)
The hard part about writing a "history" of a music act from the 70's isn't getting the facts right but actually acknowledging that all this happened over thirty years ago. You see, as I write this the memories are all so fresh in my mind it seems like it happened yesterday.
In the summer of 1970 at the ripe old age of 18, my girl friend and I packed our bags and left our apartment in Hollywood for Las Vegas. It was time for a change of scenery, and it didn't hurt that her parents had a home there. They were devout Jehovah's Witnesses and I am sure they were thrilled to have a hippie musician who'd been shacking up with their runaway daughter in LA move into their home. But the power of music can never be underestimated. Once they heard me sing they warmed up to me and I used to do shows for them and their friends. (For the record, no pamphlets were distributed during the performances).
I soon found employment at the University of Las Vegas in a coffee house. Although I'd played music all my life I did have a few other marketable skills that helped me get the gig: I worked in the kitchen, served drinks, cleaned up the place, even worked the cash register. But singing was more fun. As with most coffee houses of that era, each night featured various singers and songwriters. Before long I became the headliner. I did two or three sets a night depending on the crowds. Then, as a special reward for packing 'em in I had the priviledge of cleaning up when the show was over.
One night Mark Rodney's younger brother Jeff showed up and liked what he saw. He went home and told his brother that he HAD to go check out this guy at the coffee house. Apparently he told Mark my distinguising features were: "he sings really high like a girl and plays really cool original music." Mark showed up the next night and watched a set and was impressed. Although both of us had been from LA and actually went to the same High School, Mark had been living with his dad Red Rodney who owned a home in Vegas. Red was a famous Jazz trumpet player and I'm convinced he passed on that great musical feel to his son.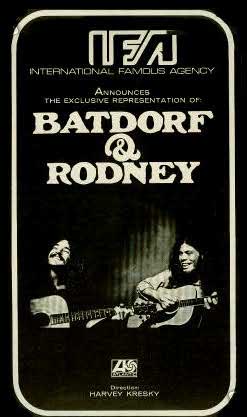 Mark introduced himself during a break and asked if he could sit in on the next set and play some guitar. That was the first time Batdorf and Rodney played. I loved the way the guy found such cool and tasty guitar parts that took the songs to a better place. Oh yeah, and it was fun.
We decided to rehearse and see what would happen. We practiced everyday either at Red's house, the park, or up at Mt. Charleston. We got really excited about this sound that was happening as we played, and we weren't alone. Soon we were packing them in at the coffee house. The manager there was so into the sound and the potential that he took us to a College entertainment show in Fresno to show off what UNLV had going on campus. We were a big hit and before long we had people wanting to join us, manage us, promote us, you name it. We were getting the offers.
We were feeling really good about what we had to offer and wanted to record it. On October 24, 1970, Mark and I were joined by our roadie Dan Bisker and a few others and we went up to Mt. Charleston armed with our guitars, a stereo cassette deck and two mics. We played a set of originals and really liked what we heard. Mark and I decided that we wanted to go back to LA and see if we could get a record deal.
Before we made the trip I wanted to protect my original songs that we'd be showcasing around LA so I decided to mail the cassette of the Mt. Charleston recording to myself as a certified letter and never open it to show proof of when these tunes were written and by whom. They call it a poor man's copyright. I wrote down all the titles and made a note that I had written the songs and went to the post office. (That letter remained unopened until recently. Listening to that performance was truly a "trip" down memory lane.)

About a month later, Mark and I, along with my girlfriend and our roadie packed everything we had into my VW and set out for LA. A friend of mine and ex-drummer, Gerry Pasternack had an apartment in West LA and let us sleep on the floor until we got something going. As I'm writing this I realize that it sounds like a nineteen seventies cliche of hippie musicians chasing a dream, but it's how it happened. I suppose the reason our story sounds like a cliche is because so many of us during that period pretty much chased the same dream in the same VW.
Before I went to Vegas and met Mark I had been in a few bands in LA and had met Ahmet Ertegun the President of Atlantic Records. He would periodically come check out those early bands but never signed them. On a whim I decided I would call the Beverly Hills Hotel where Ahmet stayed while he was in LA and see if I could talk him into listening to us. He took my call and invited us over. Atlantic was signing the Stones at that time and all the big shots were there when we showed up. Ahmet asked us to go into another room and wait for him. We tuned up and rehearsed a few tunes and then in walked Ahmet. He asked us to show him what we had and we proceeded to play "Oh, My Surprise".
To our astonishment Ahmet Ertegun, the President of Atlantic records was literally jumping up and down and yelling as we played on, "Yeah, You guys are great!" We played about four more songs including "Where Were You And I". He stopped us and said "I want to sign you and take you to Mussel Shoals and record an album" And if that wasn't great enough, he gave two hungry musicians a hundred dollar bill and said, "Come back tomorrow and now go get something to eat". We left in a complete daze and Mark asked "Who was that guy again".
The next day we showed up at the hotel and Atlantic had flown in their lawyer with our contracts which we were eager to sign.Ahmet wanted to produce our album and we were freaked. As we looked at the contract Ahmet said, "Don't worry kid, I won't burn you" so we signed. I will always have a soft spot in my heart for Ahmet. The man's a legend, one of the great icons in the music industry. This is the guy who produced Buffalo Springfield's "Blue Bird", signed CSN and Cream who were our favorite groups. He could make acoustic music rock and he was going to get our music out there for the world to hear. I will be forever in his debt for giving us our chance! He had a way about him that was truly remarkable. He could relate to the artists like he was just one of the guys who loved music and when he heard something he liked , he went after it.
A few month's later we were off to Mussel Shoals, Alabama. I had written many new songs and we were ready. The studio was a very modest one room place but had a reputation for recording many hits. The musicians there were fantastic and very nice to us. We had never played our music with a full band before so we were a bit apprehensive about it. The keyboard player, Barry Becket, was the leader of the group. He sat with me and made charts of the songs for Roger Hawkins, the drummer and David Hood, the bass player.
Although it took a while for all of us to play together like a seasoned band, once we all got comfortable it was great. When we cut "Can You See Him" on the first take we went wild during the playback. It sounded unbelievably great!! The jam rocked hard and we were on our way. During one of the sessions, we overheard a conversation Ahmet was having with someone on the phone saying that he was in Mussel Shoals producing the best group he'd had in five years. When he noticed us listening he started talking in his native Turkish tongue.
When we finished up the week in Alabama we flew back to LA with our rough mixes of what we had just recorded. we were ecstatic about our new album on Atlantic Records. Weeks passed and we had not been given a release date nor had we worked on a cover. Ahmet was sending us money to live on and bought us Martin guitars We played a lot in clubs in LA and built up quite a following as John and Mark. Along the way we met some great artists: Paul Potash, Rick Ruskin, Gabrielle Glad Star and James Lee Stanley. We became good friends with all those gifted people. But what we wanted most of all was to put out our record.
One day I got a call from Ahmet and although he really liked what we recorded he thought we were a few songs short. He wanted me to worry less about writing hits and write more about how I felt. At first I resisted but he was right, we needed some stronger songs. I went on to write "Me and My Guitar", "Don't You Hear Me Callin" and "Let Me Go" all important songs for that album.
We eventually booked some more sessions but this time in LA at Elektra Studios. Ahmet hired John Barbata on drums and Chris Etheridge on bass. Our engineer was Ross Myering. The sessions went great and everyone was pleased. Unfortunately because Ahmet was such a busy guy, it was hard to track him down and pin point a release date so the weeks passed and still nothing.
We hooked up with a manager, Harvey Kresky, who had managed Sonny and Cher among others and had a history with Ahmet. He got Atlantic to finally schedule a release date in late 1971 to the newly named duo Batdorf and Rodney, another good Ertegun idea.
Because the record sat on the shelf for so many months we appropriately named the record, " Off The Shelf". The album was finally out!!! We immediately got airplay everywhere. The playlists were not like today. AM radio actually played album cuts. A very famous DJ in LA at KRLA AM radio B. Mitchell Reid played many cuts and often. Mark and I went to the Beverly Hills Hotel on Thanksgiving to have dinner with Ahmet, David Geffen, Eve Babitz, Earl McGrath and a few others he invited. He had a boom box playing in the background and on came "Can You See Him". We all freaked and I told Ahmet, "Man we're going all the way, we're going platinum!!!" Ahmet said "Don't worry about that man, we made our mark," and he was right again.
That album didn't quite go platinum or gold or any other color but we toured and people loved us! On the road I was busy trying to write new songs for what would be our second album. I came up with "Poor Man's Dream, "Between The Ages","Oh Can You Tell Me" and a few others. We had moved into a house in Hollywood with our bass player Rick Carlos, and John Mauceri, drums. All we did was music and it was a magical time. A sound was evolving, and that sound inspired new songs: "Home Again","All I Need" , "Let Me Live The Life", "Under Five" to name a few.
This experience was different that the first album. Because we were working together as a band we knew exactly what these songs would sound like and we were excited to get started on a new album.
Because Ahmet was on the East coast again it was very hard to reach him at times and our manager asked us if we would be interested in moving to a newly formed West Coast Atlantic- owned label called Asylum. It was run by another legendary music mogul, David Geffen. As much as we absolutely loved Ahmet, it was the right move.
We needed a producer. We loved how the CSNY and Steve Stills solo records sounded and sought out Bill Halverson who engineered them all. He hadn't done much producing but when we recorded a demo for him at the Record Plant, he realized he simply needed to guide an already tightly rehearsed band. Man, could he make those acoustics sing. Bill was awesome. We cut the entire album's basic tracks in three days and then started working on the vocals and other overdubs. David Geffen brought the group America to one of our sessions and the next day and we got booted off our scheduled session so America could record with Bill. Man were we pissed!!
The sessions soon resumed and the album was really coming together. Bill suggested we try using some strings on a couple of songs. We agreed and met Jimmy Haskell, a very gifted orchestral arranger. Jimmy wrote those incredible strings on "Between The Ages" and "Happy Town". When I heard those strings go down at the session I got chills. They were so hauntingly beautiful. We finished mixing and now it was time to release it and go on the road again.
After touring with groups like Bread, The Young Bloods, Dave Mason etc., people knew who we were and we were invited to headline at colleges. Again we were a huge hit on the road and the record was getting a ton of airplay and all looked great. Unfortunately without a big hit single to launch the popular FM album the momentum fizzled. That was the first time I felt like maybe it wasn't going to happen. Money got tight and the band was beginning to fray under all the pressure. We got rid of our manager and tried to keep it going on our own but it seemed like it was time to rest. My relationship with Mark had become strained and the band was taking sides so I reluctantly quit. I had no idea what was next but that era was over with.
The best thing to come out of that time is that in 1973 I got married to Melanie Baroody to whom I am still married. She was the sister of Robin who was married to our road manager Steve Smith. I kicked around awhile touring as a solo act, forming a new band and continued writing but nothing seemed to work. About a year and a half later, armed with some new songs, I auditioned for A&M Record's A&R man, Kip Cohen. He liked what he heard and invited me to come back the next day and play again for him and another A&R person, Roger Birnbaum. They both liked me but thought I needed a partner/partners to make a real act. Kip gave me $500.00 and told me that they were interested. They teamed me up with a few guys that they felt the same way about. They flew me to New York and had me meet a bunch of singer songwriters but there was no connection.
Eventually A&M bowed out, but Roger remained a supportive friend. He really liked what I did and sheepishly asked if there was a possibility that Mark and I could give it another try. I was open to it. We met, patched things up and decided to try to attain what had eluded us before: fame and fortune. Now all we needed was a record deal.
Roger suggested we audition for Eric Malamud who was an A&R scout for a newly formed label by Clive Davis. We played at the Ash Grove in LA and Eric loved us. He convinced Clive to give us a listen and we were off to the Beverly Hills Hotel again to play our songs. Clive loved the sound and songs and signed us. Roger left A&M and went to work for Arista. He is another guy I will forever be thankful to for caring enough about something and seeing it through! Now we needed a producer and for the first time had to deal with a record company who insisted on us doing outside material.
Because Clive Davis had hand picked the song "Mandy" for Barry Manilow he felt strongly that he knew how to pick hits for artists who didn't know what they were missing. Since Manilow had resisted "Mandy" which went on to be a big hit. Clive wasn't impressed when we were less than enthusiastic about some of the songs he'd picked for us. He kept referring to "Mandy" and how much Barry didn't want to do it but it made him a star so we went along. He gave us "You Are A Song" and "Gentler Time". I liked the first song but had a very hard time with the second one. But I had no choice.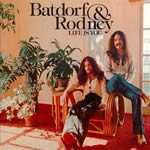 The record got made and to our dismay, Clive had our producer, Tom Sellers, edit out all of the guitar solos that were a staple of earlier B&R records. Clive came to see us at a club in NY before the album was released. He thought he had signed another Simon and Garfunkel type duo. We played great and got two standing ovations. Our jams were better than ever. Clive came backstage and his comment was,"You guys were lucky that an instrumental audience showed up" so we knew there was a communication problem going on. Clive didn't understand that the audience we'd been building for Batdorf and Rodney LOVED the instrumental jams. It was a key to our sound and appeal. But it's hard to argue with the man who made Barry Manilow a superstar.
Our album came out and did OK but was a watered down version of our earlier stuff and some of the fans didn't like it as much. But along the way we picked up some new fans and a new manager, Rob Heller. He got us back on the road with Seals and Croft and many other great acts. During this period "You Are A Song" was a decent hit for us.
The album sold more than our previous albums so we went with it and kept our creative disagreements to a minimum. As the momentum of the Life is You album began to slide, Clive called me and said he had a song that he wanted Mark and I to record but it had to be done immediately because it was going to be Helen Reddy's next single and he wanted to beat her to the punch. It was a beautifully written song , "Somewhere In The Night". I absolutely loved this song and was truly excited to record it, but there was a catch. Since we were in the studio with Clive he showed us another song "Wham Bam" that he thought would be a hit. I hated it.
To this day I still hate that song. I actually met with Clive and spoke of band credibility and that B&R fans would know we were selling out but Clive wouldn't budge. Mark and Rob who were at the meeting didn't say a word to back me up so that was the deal. The price for getting to sing "Somewhere in the Night" was doing "Wham Bam".
After hearing the final mix of "Somewhere in the Night". Clive did not care for the sound Mark and I got on the verse so he brought in David Pomerantz to sing Mark's part. That was truly the beginning of the end. We went on to record Wham Bam and instead of unison, Clive had me double track the lead vocal giving Mark only a little to sing. This alienated Mark to the point where I could see him fading away. As he was fading "Somewhere in the Night" came onto the charts at #80 our highest chart debut ever… but something happened.
The story goes that a high ranking VIP in Helen Reddy's management firm, was so upset at Clive for pulling this fast one, he called all the big stations and told them if they played our version that station would never get another Helen Reddy record again. Why that stopped them I'll never know. If you ever heard her version you probably understand why it came and went. It just wasn't very good. Later Barry Manilow had the hit with the song, but I'm telling you honestly, our version truly was the one.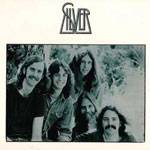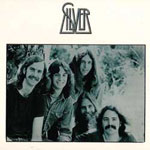 Well what was next? I continued to write songs with the intention of recording another album that never came to pass. Mark and I drifted farther apart and I decided to try a new band with B&R keyboard player, Brent Mydland, Greg Collier, Harry Stinson and Tom Leadon. we called ourselves Silver. Clive heard us and told us if we released Wham Bam as Silver's first single he would sign us to an album deal. What choice did we have? We replaced Mark's parts and went on to cut the album. The single was a big hit but the album sounded nothing like the single and we didn't draw well. We were a West coast sounding band with a stupid bubble gum single. We were now signed to the powerful Hartmann and Goodman management team which put us on the America tour. We also toured with the Doobie Brothers, Hall and Oats and many other great acts. We were evolving into a very cool band with four great singers. Everybody wrote and we were all competent musicians. When it came time to do a second album, we played all the songs live for Clive. He didn't like the direction and again gave us some songs that he wanted us to do. It was "Wham Bam" time again. We refused, he refused so we were at an impasse.
Clive agreed to let us out of our contract if he were to get $200,000.00 and four points from any other deal we might be able to land. We were not nearly big enough to get those kinds of numbers so our careers were basically over as the group Silver. I ended up trying a few things out that didn't work and ended up as a staff song writer for the Entertainment Company, a publishing group owned by Charles Koppleman and Martin Bandier. I started co-writing with other writers and got a couple of covers by America, England Dan and the Curry Sisters. In 1981 I met Michael Stewart a producer who really liked my work and got me a deal with President Neil Portnow of 20th Century Records. I recorded a single remake of "Be My Baby" with plans of doing an album of originals as a solo artist. The day the single was to be released, 20th Century Fox was sold and the record label was dissolved. It was truly time to move on.